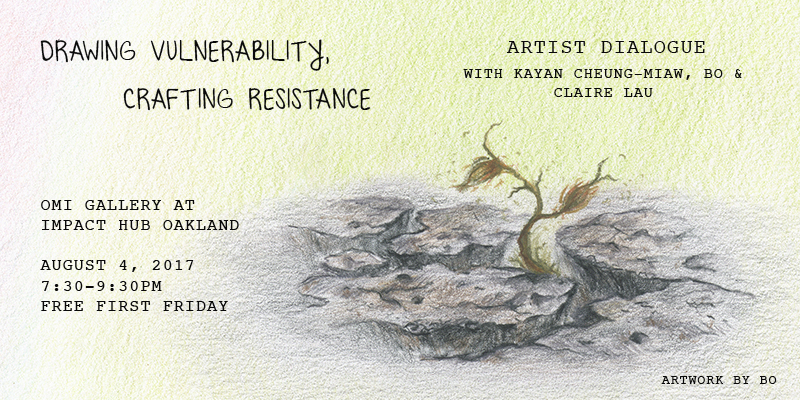 Please join me this Friday August 4 for "Drawing Vulnerability, Crafting Resistance" Artist Dialogue at Omi Gallery @ Impact Hub Oakland.
Drawing Vulnerability, Crafting Resistance Artist Dialogue
Friday, August 4, 2017
7:30pm – 9:30pm
FREE – Please RSVP HERE
Omi Gallery – Impact Hub Oakland
2323 Broadway, Oakland, CA 94612
Join us for an artist talk and presentation with Bo, Kayan Cheung-Miaw, and Claire Lau on the topic of vulnerability as a mode of cultural resistance. In the climate of political uncertainty, how do we draw on the resources within ourselves to craft out livable spaces? How can art help us redraw boundaries and grow beyond what we thought was possible?
"Drawing Vulnerability, Crafting Resistance" is the second in a series of conversations as part of "Illustrated Justice/Graphing Freedom" a comic/graphic arts group exhibition that animates the political relationships of rage and resistance on display at Omi Gallery through August 25th. The exhibit is curated by Ashara Ekundayo & Kayan Cheung-Miaw.
EXHIBITING ARTISTS INCLUDE: Ajuan Mance | Alisa Damaso | Bo | Breena Nuñez Peralta| Chinese Progressive Association | Claire Lau | Jewels Smith | Micah Bazant | Robert Liu-Trujillo | Street Cred – Advertising for the People / Bay Area Art Queers Unleashing Power | Thi Bui
---
soft skin explores softness as an articulation of strength and challenges the cis-heteropatriarchal notion of "tough skin" as a standard of survival. Inspired by the transmasculine experience of being off testosterone, the work traces the shifting contours of emotional/bodily landscape to explore various borders and boundaries that confine us. It's a project of profound grief, vulnerability, and liberation–which is precisely what it means to become embodied.
SAVE THE DATE!!
soft skin will be featured in "OUT/LOOK & the Birth of the Queer" Exhibit
GLBT History Museum
4127 18th St, San Francisco, CA 94114
Opening Exhibit Reception: Friday, October 6 @ 7 – 9pm
---
My film Occidental Paradise was recently screened at the Toronto Queer Film Festival this year as part of the "FREEDOM TO MOVE, FREEDOM TO STAY" program on June 14!
FREEDOM TO MOVE, FREEDOM TO STAY
June 14, 2017
Co-sponsored by No One Is Illegal – Toronto
Passages, bridges, and borders can be ambiguous spaces. They are slippery in-betweens where the rules seem to always be changing. There are those that are porous, and those that are closed. Some migrants cross with hope, while others do so reluctantly, or by force, with no access to return. These imagined (yet enforced) borders and boundaries in the real, the digital, or spiritual worlds mark those who make the voyage and transform them – for better or worse. The films in Freedom to Move, Freedom to Stay trace migratory queer stories and bring into question the concepts of borders, passages, and crossings.
---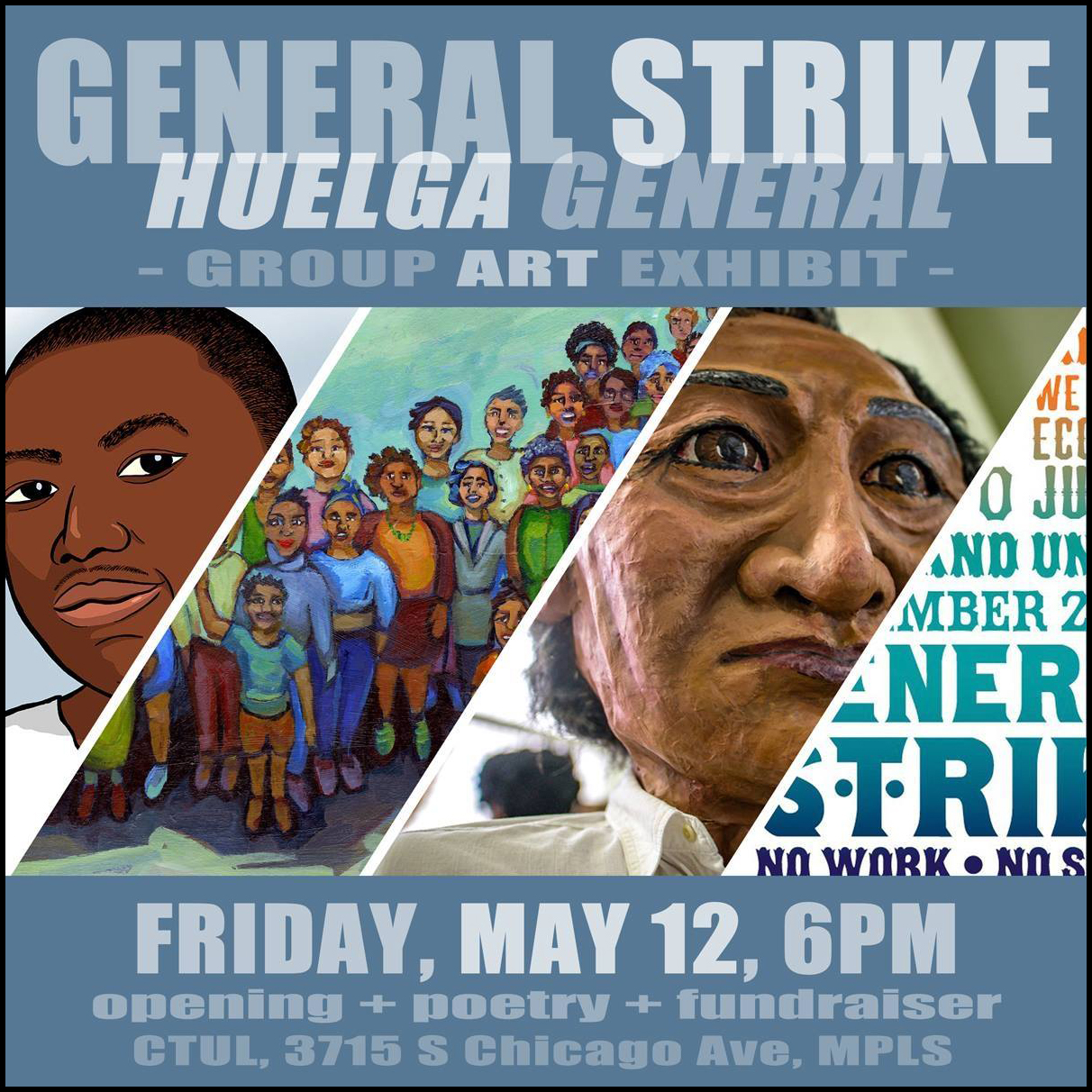 My work is currently part of this amazing show in Minneapolis! The exhibit runs through Labor Day (Sept 4). Please come by if you're in the area!